Meet the team
Our team are integral to our vision and we value each contribution they make. All staff undertake regular training and attend relevant trade shows and conferences.
Workshop team
Owen Forrest (Director)
Owen trained at a Renault franchised dealership for seven years gaining workshop experience and completing industry standard training for diagnosis and repair. He established Kent Car Craft in March 2007 aged 24. Owen's love of cars began at a very early age – his first word was wheel! He remains passionate about everything car related and now races American classic cars with his dad. Owen is cofounder and host of the Motor Addicts website and you tube channel. In addition he directs Forrest Taxi Rentals, taxi hire business. 
Richard Sharpin
Richard started working on cars while he was at school. He helped his dad build a production class rally cross car. At 16 years old he began an apprenticeship with Invicta Ford. He then joined Bodyline Autos. After that he moved on to Kings Garage where he trained as MOT tester and Workshop Foreman. In 2001 Richard gained a position at St Georges VW where he completed several training courses working towards Mastertech. Richard moved to East Cliff Garage in 2009, as Workshop Foreman.
Steven Heasman
Steven started his career at Kings Garage in Ramsgate where he completed Levels 1-3 City & Guilds qualifications in Vehicle Maintenance and Repair. In 2003 he joined Euro Canterbury as a workshop technician. After 4 years he moved to Toyota Canterbury. In 2014 he joined the Kent Car Craft team.
Front of House team
Leanne Forrest
Leanne has brought with her a wealth of experience from a previous Marketing and Communications role. This has allowed her to overhaul the branding for Kent Car Craft, designing new uniforms, branded stationery and promotional materials. She designed and implemented a new website and online presence for the business.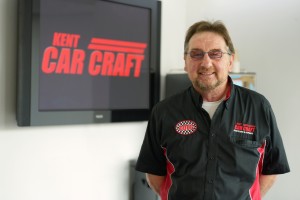 Doug Forrest
Owen's father Doug ran sister-company Classic Car Craft from 2008-2014. Specialising in British and American classic cars up to the mid eighties. Doug, who worked as a generator engineer for 20 years, has always had a keen interest in classic cars. He has an eclectic car ownership history including Jaguar, Chevrolet and Dodges.